As businesses in Boston, and all throughout Massachusetts, adjust to the new normal of working from home, a big puzzle for workers and managers alike are figuring out Microsoft Teams.
Included in the O365 Implementation bundle, Teams are very easy to activate and use at a basic level for anyone who's used chat rooms, conference calls like Skype or Zoom, or any other office application. However, what makes it challenging for managers is matching Teams' configurations with how the company works in real life, and the hard part for employees is knowing the features at hand.
In this post, we'll share some tips for Managers and end-users and remind you to reach out to us if you need Microsoft Teams training for your company.
As one of our clients in Boston says "Teams have been a "savior" (as commented by many) with communication and meetings, keeping everyone connected at all times" – Amy Brodbine, Controller at Garland Building Company.
Here are a few tips for a great end-user adoption and governance:
Improve end-user adoption
Set up Teams and Channels aligned to your business
Think about the way your teams work in the office, how cross-functional they are, or how they are teamed up for specific projects and re-create all these Teams inside the tool.
Each Team is essentially a hub for group chat rooms, which are called Channels. Within a Team, you can create multiple Channels. For instance, you can have a "Sales" Team and Channels for "Boston Sales", "B2B2C", "North East Sales", etc. Or a Company could be a Team and Channels can relate to departments – you can choose whatever suits your organization's way of working.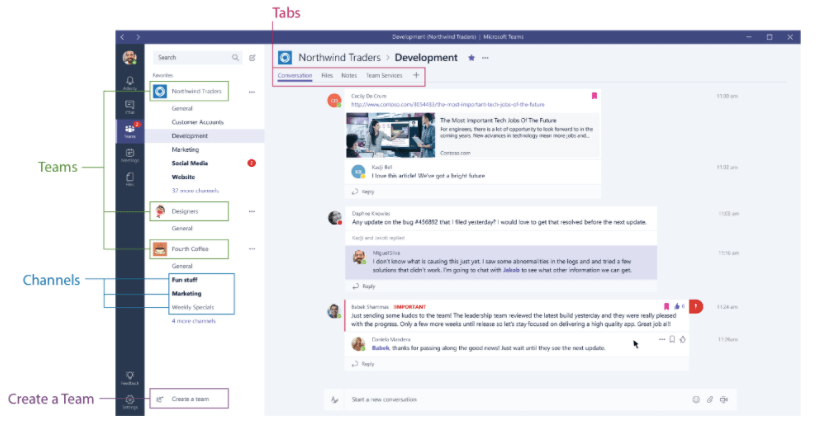 Each channel that you create will then have Conversations, Files, and Notes tabs where the relevant information can be stored for better collaboration.
Additional tips: Check some of these best practices for Teams creation:
Create one "All employees" team, for corporate communications. This channel can be really useful for increasing employee engagement and morale.

Add a channel per business unit or region "North East" or "Marketing" to keep job function conversations or projects.

Create additional Teams for cross-functional projects. Like "X Product Development" where you bring people from different departments. 

If you don't have cross-functional teams, do not create additional Team hubs but use Channels. i.e the Team will be "Marketing" and the channels inside that team can be "Content Development", "Product Marketing", "Social Media", "Digital Marketing", etc. 
Mimic the collaborative nature of the real office from within Teams
When working at the office we have quick face to face conversations to find resolutions faster and getting a great side-by-side collaboration experience. In order to create the same collaborative experience in Teams, you can use Conversations in each channel, with features like instant message and video to foster engagement dynamically and easily.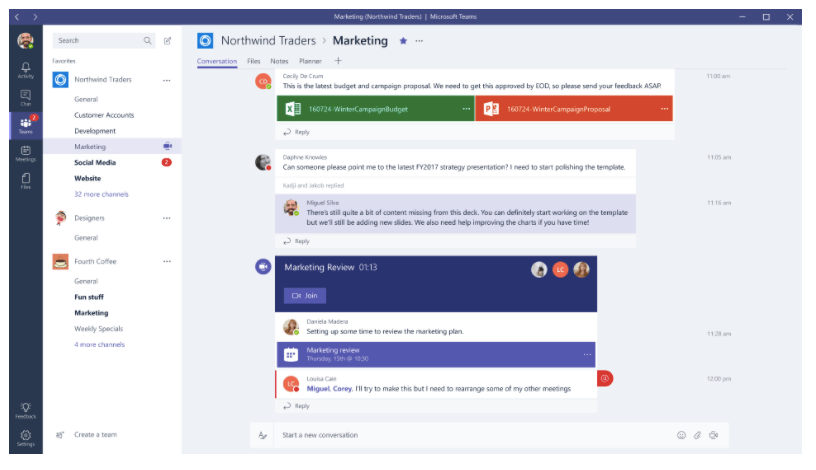 In addition, pinning conversations is a very useful feature, so make sure end-users understand it and use it frequently. Pinning a conversation is essentially creating quick access to a one-to-one conversation. Users have the option to pin up to 15 key people they converse with, saving time from looking in the "Recent" folder for different individuals or group chats. 
Another useful feature, especially when collaborating on a specific file, is the "Add tab". Users can add tabs directly to the chat windows of individual and group chats. For instance, if employees are constantly collaborating on a PowerPoint, they can add a PowerPoint tab directly in the chat window; or if they're collaborating on a spreadsheet for a long period of time, you can add the Excel tab.
Encourage your teams to use video. If users need face-to-face conversations, encourage them to jump straight into voice or video chats with other channel participants. They can do this with just one single click, and the result is an increase in the engagement ultimately enhancing productivity. 
Make your end-users aware of all the functionality and create use-case examples
Communication will be key here, using your default corporate communication channel (i.e email, SharePoint) communicate in simple and clear language the following:
What additional services you'll still support (Zoom, google docs, etc). When doing this think of the specifics of each department, maybe forcing your sales team to only use Teams won't be efficient as many clients/prospects might have issues joining a Teams call, whereas Zoom is easier.  

What are the escalation channels to reach out to if there's a problem?

Where to get devices, or what devices you recommend (cameras, headsets, etc).

How to install Teams client and basic usage.

If possible, create a few use cases inside each business unit, to increase adoption. 

Provide an overview of all the tasks they can complete inside Microsoft Teams (use the following as an example)
Yes, Microsoft Teams is a great tool to organize your workflows and keep your employees connected at all times. However, from our point of view, the biggest selling point is productivity. Teams integrates tools your end-users are already familiar with providing a better user experience and streamlining processes. 
For instance, let's talk Files first. Teams are integrated with Microsoft's online office suite Office 365, which means it is tied to other Microsoft Office services, such as Word, Excel, PowerPoint, OneNote, Planner, Power BI as well as its cloud storage and sharing services such as SharePoint. 
End-users can complete work in real-time with colleagues as they chat together, and work on files through Teams, rather than taking turns emailing updates. 
Which means….drums, please… 
Say goodbye to having multiple versions of everything! 
Documents, spreadsheets, presentations and the like that are shared within a Team are synced with a copy stored in Microsoft's OneDrive cloud storage so every Team member always has access to the latest version. 
Email can be one of the most painful tasks for your employees, but Microsoft Teams makes it easier for them. Communicate this benefit properly, within Teams email threads get more organized and relevant to each of the Team Channels, here is how:
Click the ellipsis next to any channel name and select "Get email address."

Forward emails directly to your Channel Email Address and every member of that channel will receive it as well as keep it stored in the Conversations Tab of that Channel. 

You'll see the emails in the Conversations window and can always refer to those as needed. 
Microsoft Teams aims to organize workplace's communication, activities, meetings, and creative/strategic ideas into one platform, all the while integrating people as they work and interact with each other. 
Additional usages for Teams: 
Share ideas and expertise in private, chat-based conversations

Create Office Online documents within the browser

Integrate internal or external content & tools with different tabs

Leverage bots to support your daily activities and tasks
Back-end Governance, Policies and Performance (For Managers) 
Governance Strategies
Every Team created in the platform will automatically create a matching Sharepoint Team site, Office 365 Group and shared OneNote. While this brings a number of great benefits, such as shared documents and centralized team information, it can cause some governance and admin headaches.
For back-end management of the platform it is necessary to have an understanding of tools like Exchange, Active Directory, Sharepoint and Application Manager. There's no need to be an expert in all of these, but understanding how they work, how they are configured will help when organizing policies and procedures for the correct use of Teams. 
Careful! Governance is a thin line between runaway usage and users running away. 
Deploying Microsoft Teams without consideration of policies will result in a disorganized platform, where hundreds of teams are created for every little project storing a few files or conversations causing redundancy of data (Runaway Usage). But also, setting up too many controls for Team and Channel creation, or feature usage such as video meetings, screen or file sharing will make end-users fall back to tools they already know like Dropbox, or Trello (Users running away)
Can you manage this by yourself? Yes. Should you want to manage this? Maybe not. 
Working with an IT Service provider to not only implement Microsoft Teams but also to support the platform's management will be beneficial, especially when rolling this out in a short time-frame, that's where Casserly Consulting can help.
Establish Training Strategy & Policies
As explained before, you need to make sure Teams really reflect the way your employees work both cross-functional and by the department. One example of a best practice is to train your employees to identify if a Team already exists before creating a new one. This is independent of a Team Name, meaning a Team is not defined by the name only, but by the participants, conversations and files stored. Training your users to understand this, will allow you to reduce the number of duplicated teams and keep your platform organized. 
Microsoft Teams is designed to provide an easier way for small groups of people to communicate and collaborate. But for all this magic to happen your employees need to squeeze the goodness out of it, here is a list of resources you can use to build a training program:
Additionally, setting up clear communication policies will create more clarity into how to use Teams for certain scenarios. For example, you can establish a policy of video calls for meetings with up to 5 people, so every time your employees are using Teams to communicate with less than 5 co-workers they know video is the best way. 
Additional Tip: Set as early as you can usage policies for the following:
Who should be allowed to share and post where?

Who should be allowed to create new teams?

Who should be allowed to add apps and tabs?
As with everything else, the more flexibility you give your employees the more you should make them aware of cybersecurity risks. With O365 and Microsoft Teams, your employees have now the ability to work from wherever and this sometimes imposes a security risk, especially if they are using public networks. Consider running a Security Awareness Training for end-users and a Cybersecurity Assessment as ways to strengthen your security posture.
Set up your network for success 
The best advice here is to follow the recommendations Microsoft has created for a successful O365 implementation. Considering the performance of your network is an essential part guaranteeing the availability of service for all your remote users. We recommend that before you consider any network optimizations you get informed of Security Risks affecting businesses in Boston, only then you can work closely with your IT service provider to deploy a high-performance network with strong layered security. 
Pro tip: VPN is a great way to enhance the security for remote workers, however, make sure you enable and deploy a split VPN tunnel so O365 doesn't transit your corpnet. We've seen performance issues when a VPN allows traffic coming from the end-user device into the network and to the O365 service, which can be a security risk if you don't have additional layers of security installed in each device. What you want to do is create a VPN tunnel an end-user can use to access O365 services only, without entering the corporate network. This will optimize the traffic coming in and out, and the speed of access to data. Read More Here
Nobody knows your business better than you, that's true. But working closely with an experienced Microsoft partner to help you migrate and implement Microsoft Teams will be beneficial when customizing your platform. As I mentioned before, having expertise in areas like Application Management, Active Directory, and Sharepoint will guarantee a cleaner and faster deployment. 
Here are some of the things we can help you with: 
End to End Deployment and Migration Services including Implementation Requirements, Planning Considerations, Permissions, Microsoft Teams Provisioning, Testing, Installation, Setup, and Administration.

Understanding of the Integration with SharePoint Online, Exchange Online, OneDrive for Business, and OneNote.

Configurations, and customizations options in Teams and Channels specific to the needs of your organization including configuration and control around third-party external apps.

Solutions for document synchronization, backup and restore procedures and options.

Training, documentation, and knowledge transfer for your key stakeholders as well as all end-users and employees

.
Let us know if you need help implementing Teams, O365 or simply supporting an existing environment, Casserly Consulting is here to help! To learn more about technologies that can help your business subscribe to our blog, The Edge.