Cloud-Based Productivity for Boston Businesses
Team Collaboration in Real-Time
Multiple team members work and comment on the same project
Microsoft 365 is designed to enable its users to share, collaborate, and communicate in the cloud. It takes the Microsoft Office applications and combines them with cloud-based versions of Microsoft Exchange, and SharePoint.
Casserly Consulting helps businesses in the Greater Boston Area deploy and support their Microsoft 365 environment, with additional layers of security guaranteeing a tailored solution.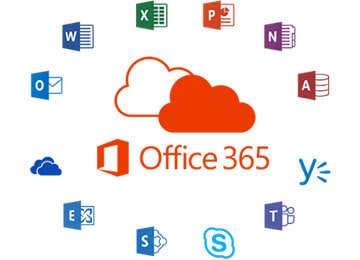 Microsoft 365 features you'll love
Stay connected with Microsoft Teams
Share and manage important documents with everyone on your team.
Microsoft Teams is the collaboration hub included in your Microsoft 365 license. It allows your teams to stay connected, sharing files in real-time, with chat, voice, and video capabilities. Microsoft Teams is highly customizable and can work in multiple devices enabling your workforce to stay connected no matter where they are.
Your Favorite Apps Now On the Cloud
Work anywhere, at any time, on any device. 
The Microsoft Office Productivity Suite includes the cloud-based version of the following familiar Apps: Outlook, Word, Excel, PowerPoint, Access, OneNote, a SharePoint Team/Public Site, and Teams, ensuring access at any time.
Next level of data protection
With Advanced Threat Protection (ATP) capabilities
Microsoft 365 ATP safeguards your organization against malicious threats posed by email messages, links (URLs), and collaboration tools. It includes threat protection policies, reports, automated threat investigation, and response capabilities. 
Customizable Plans to Fit Your Needs

Microsoft 365 Support and Governance 
Deploying Microsoft 365 requires careful consideration and review of the existing Active Directory (AD) environment, this can be a complex task for many organizations. You can read our checklist for Microsoft 365 migration to learn more.  
Careful! Governance is a thin line between runaway usage and users running away. Deploying Microsoft 365 without consideration of policies will result in a disorganized platform, where duplicated data and complexity will force users away from the platform.
Casserly Consulting can help businesses in the Greater Boston Area, plan and execute a Microsoft 365 migration tailoring policies and governance to each business's needs. 
About Us
Learn more about what Casserly Consulting L.L.C. can do for your business.


19 Crosby Drive Bedford, Massachusetts 01730



Phone: (978) 988-5500
Latest News
3 Ways to Take Back Your Day From Workplace

Dec 2016

VoIP – Voice over IP Phone System Solutions

Dec 2016

3 Ways to Take Back Your Day From Workplace

Dec 2016
Latest Blog Entry
3 Ways to Take Back Your Day From Workplace

Dec 2016

VoIP – Voice over IP Phone System Solutions

Dec 2016

3 Ways to Take Back Your Day From Workplace

Dec 2016