Microsoft Teams Rooms are a great way to boost productivity for businesses of all sizes. By bringing people together in a virtual and physical space, employees can collaborate more effectively and get more done. Here's what you need to know about Microsoft Teams Rooms and how they can help your business.
In this article we'll discuss the benefits of Microsoft Teams Rooms, how you can use them to improve collaboration and productivity, and tips for getting started.
Microsoft Teams Rooms and its benefits for businesses
Microsoft Teams Rooms is the perfect business solution for organizations looking to drive collaboration, efficiency, and engagement. Microsoft Teams Rooms creates a smarter meeting space for teams to collaborate with all the essential Microsoft applications, such as Word, Excel, and PowerPoint and non-native apps from multiple platforms.
Microsoft Teams Rooms is more than just a virtual meeting space like Zoom or Web-ex. It's also more than a conference room system like Avaya or Cisco. It's the combination of specifically designed conference room devices integrated into Teams Rooms software to provide a seamless experience for in person and virtual users.
This makes it possible for businesses of any size to engage their employees without wasting valuable time or resources on travel. Bridge the virtual and physical workforce with a modern conference room that brings the whole team into the picture no matter where they are.
How Microsoft Teams Rooms can be used to increase productivity
Meet quicker, more effectively and stay on task with tech getting in the way.
Microsoft Teams Rooms gives users a simple, unified experience to quickly start and hold more productive meetings than ever before. Faster meetings mean better collaboration and decisions can be made quicker.
Have iPhones or other brand devices? No problem, it is cross platform compatible, so regardless of the device being used, all users can join with no delay. Its high-quality audio and video allow everyone to feel like they're in the same room regardless of the location.
Microsoft Teams Rooms makes it easy for teams located around the world to come together on any device and share ideas seamlessly, creating meeting experiences suited for productivity boosts. This is way more than your standard conference room with a white board and a tv on the wall. Teams Rooms bring everyone into the conversation ensuring no voice is left out and all your business's resources are engaged on the task at hand.
7 tips to get the most out of Microsoft Teams Rooms
From Teams Breakout Rooms to One Touch Join, here are 7 tips to get going.
#1 – One Touch Join
One-Touch Join, which allows users to join a meeting simply by tapping an icon on their device.
#2 – Proximity Join
This feature that will automatically connect your devices as soon as each person arrives in the Room.
#3 – Meet Now
Meet Now helps you set up sessions quickly. One button to select and assign participants, your meeting is instantly live.
#4- Direct Guest Join
Enables anyone to join remotely regardless of the platform Cisco Web-ex, Zoom and more. Bridge meeting technologies with ease.
#5 – Microsoft Teams Breakout Rooms
Yes, Breakout Rooms for Microsoft Teams is available. Create breakout rooms for dividing large groups into smaller sizes for breakout sessions during your meeting. When your done just return to the main meeting.
#6 – Content Cameras
Way more than your laptop camera pointed at a white board. Content cameras easily share what's being worked on in the room with virtual guest and allow interaction between the two. (It will even remove the presenter so mobile users can see content behind them! Wow!)
 #7 – Transcription
Using Microsoft Teams Rooms AI technology to transcribe conversations in real time, ensure meeting notes are kept, appointments are scheduled, and task list are ready.
Using all these features together will help you take full advantage of Microsoft Teams Rooms!
This is just a start, add Microsoft Teams Rooms certified devices to do more cool features like display conference room schedules, room settings, time limits, room assignments and more.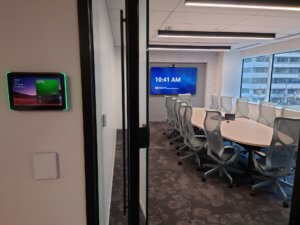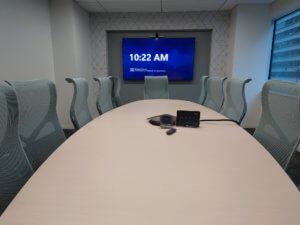 A success stories from Casserly & Microsoft Teams Rooms
Conference rooms present an avenue for new ideas, collaborations and shared creativity. Microsoft Teams Rooms have become a leading tool for bringing the people who matter most into a single virtual space. From remote sales offices to corporate headquarters, MS Teams Rooms offer an innovative yet practical way to stay connected in real time.
One such success story comes from a CEO that needed to participate in frequent conference meetings from his office. With small computers screens and broken audio, he was not able to effectively manage the conference room and virtual attendees from his office. Casserly deployed Teams Rooms Devices to with entire room audio, cameras and large high-definition displays that allowed the CEO to have a presence in remote meetings from anywhere in his office. The result was a happy CEO and more engaging meetings for the entire staff.
In conclusion, Microsoft Teams Rooms is a powerful tool for businesses looking to increase productivity and collaboration among teams.  At Casserly, our mission is to provide solutions tailored to each situation and organization – including helping you get your meetings up and running with Microsoft Teams Rooms.  Contact Casserly today and let us help you maximize your meeting potential with Microsoft Team Rooms' technology.