Okay, the good news is that you've improved your firm's cyber security posture.
Smart! You've been proactive and this already puts you above the pack.
But something isn't sitting quite right.
Yes, all of your data, including client and partner information, as well as every endpoint, it's all well protected now; if an intruder broke in, detection and response would be swift.
The problem? The ones who benefit most, your clients, they are clueless about the virtual fortress!
Big mistake if we don't act.
This blog will help you fix the pit in your stomach.
We'll share 4 practical ways to turn your recent cybersecurity improvements into revenue, or at the very least, better client retention.

We all have a list of the ones who should have been customers but never signed up. Well, if you've forgotten about them or if you've struggled to think of  a good excuse to catch up, here's your chance!
No need to overcomplicate this at all.
For example:
Dear [John], how are you? Hope all is well at [Company]. It's been a few months since we last spoke.

We recently improved our cybersecurity posture. Most of our peers are sitting back and crossing fingers, but we don't like to depend on luck, especially since our data is our client's data.

How about [company], what's new?

Best,
[Your name]
Alternatively, you can send this person a message via LinkedIn:
Hey [Name], it's been a few months since we last talked. Some news from my end: we strengthened our cyber security posture; it's a good feeling to

be honest. Cyber criminals love to attack smaller firms, especially ones in our industry. I know from speaking with peers that many companies are just

crossing their fingers.

What's new with you?
No need to get into the security specifics, especially in an initial message; your goal at first is to simply reignite an old flame. And, by sharing a short but significant security update, you're showing that your company is improving and this makes them wonder, "what's the other guy doing in terms of security?"

Your website represents everything about your firm; doesn't matter if you're in a "B2B industry" or if you to sell to consumers directly because the content on your website always makes an impression one way or another.
Many companies have a section on their site that's dedicated to "company news"; this is a good place to describe your security investments at a high-level.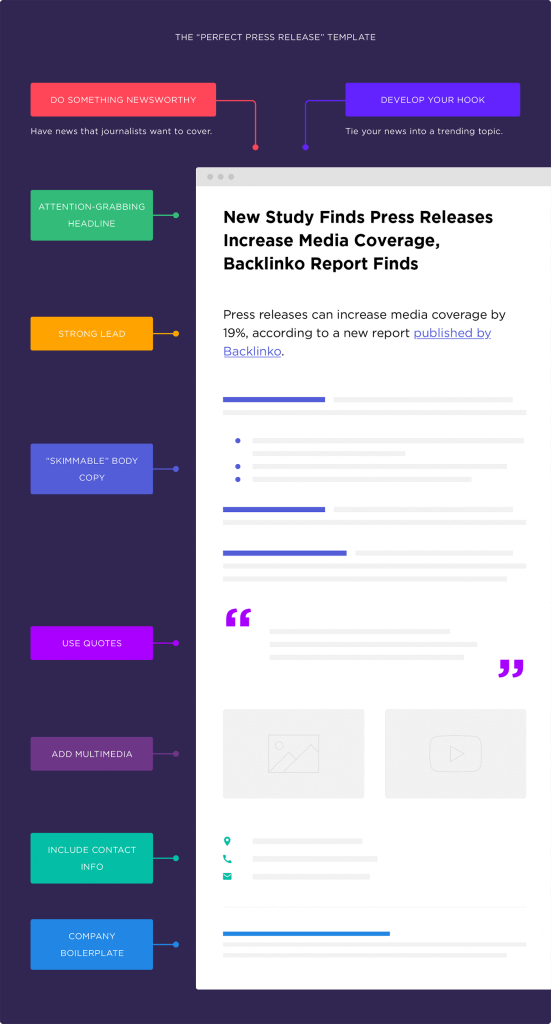 This template came from https://backlinko.com/write-a-press-release
If you need help with how to structure your news, I'd strongly advise with using a straightforward press release template. For example, the template in the image above, it shows exactly what to include, the order and length, etc.
A few tips for the headline:
Include quotes from staff or even vendors – get creative here!
Include mentions of the vendors that helped your company become more secure.
Do not describe your security layers in technical detail, only mention a few highlights.
Use convincing statistics or content that your vendors have on hand to fill in the gaps.

Clients will feel better knowing that the information you store about them is in capable hands, right? And, when it comes to revenue, we can't ignore the significance of our clients.
A 5% increase in customer retention can increase a company's profitability by 75 percent – Bain & Co
When it comes to telling our clients about security, I wouldn't worry much about graphic design, just give it to them straight; in fact, an email would be sufficient in most cases.
However, if you want to transmit a more serious tone, which is appropriate for security, then consider mailing them instead.
If driving to Staples to get special letterhead paper, or if having to design a letterhead mentally drains you, then definitely check out Canva.com.
Canva is a pay-as-you-go web platform for people who desire high-quality graphic design templates but don't have the inhouse design personel to design for themselves.
From Canva you can select a letterhead template, embed your logo on it using their drag-and-drop feature, and then have them print and mailed it to your office!

Talking about your strengths makes perfect sense, but how exactly should you bring up security?
First of all, make sure you know what aspects to share.
If you've written the press release, or the letter for clients, then this part is basically done.
In my experience, the best kind of sales talk is one that incorporates a good amount of storytelling; stories just have a better chance of leaving a mark.

My favorite point from is the second to last option, "A Beginning, A Crisis & A Resolution."
Starting Tips
Paint a picture of your industry's challenges with cyber security.
Describe how your security was set up before all of the recent changes.
Describe what cyber crimes are happening more frequently with smaller companies, such as ransomware attacks.
Crisis Tips
Spend time describing the tragedy of a company, especially a local firm, that didn't prepare for worse-case scenarios.
Describe a few close calls your own company experienced with scams.
Reveal the epiphany your leadership committee had when you realized that nothing had been updated in security in too long.
The crisis part doesn't need to be an actual event that was negative, and it doesn't need to be about you, what matters is that you talk about a moment when you decided to take action.
And finally, end with the resolution, in other words, finish by describing two or three things you did to resolve the "crisis."

"And so we partnered with XYX firm so that they could bring in the expertise to conduct a vulnerability assessment for our entire network. Once that was finished we invested in several more advanced security layers, such as A and B.

'A' makes a lot of sense for our company because of B and D reasons, while C is important because of E and F reasons."
Or
"And so we came up with a security roadmap with the help of a cyber security firm who specialized in our industry. They outlined specific improvements we had to make to exceed standard industry benchmarks, including investing in A and C. 'A' makes a lot of sense for us because of B and D, while C is important because of E and F.